Regular price
$900.00 USD
Regular price
Sale price
$900.00 USD
Unit price
per
Sale
Sold out
Sales Closed
Expected Delivery Mid-November
Limited Batch, One Per Customer. Last run for Stainless Steel & Black Edition
Form meets function in the Lithium-E case by ybd. This robust semi-open eATX/ATX case is designed and made in the USA with timeless character. Utilizing stainless steel & black powdercoated elements, the Lithium-E is a fully featured and deliberately designed platform for experienced enthusiasts.
Expected Delivery Mid-November
Materials

13g CRS Steel & 18g 304 #4 Finish Stainless Steel
Fabrication

Lasercut, Deburred, Pem-inserted, Tapped, Formed, & Painted
Storage

Three 2.5" and 3.5" drive mounting brackets
Water Cooling

Two 360mm Radiator Mounting Locations

Two EK D5 Pump Locations
Share
View full details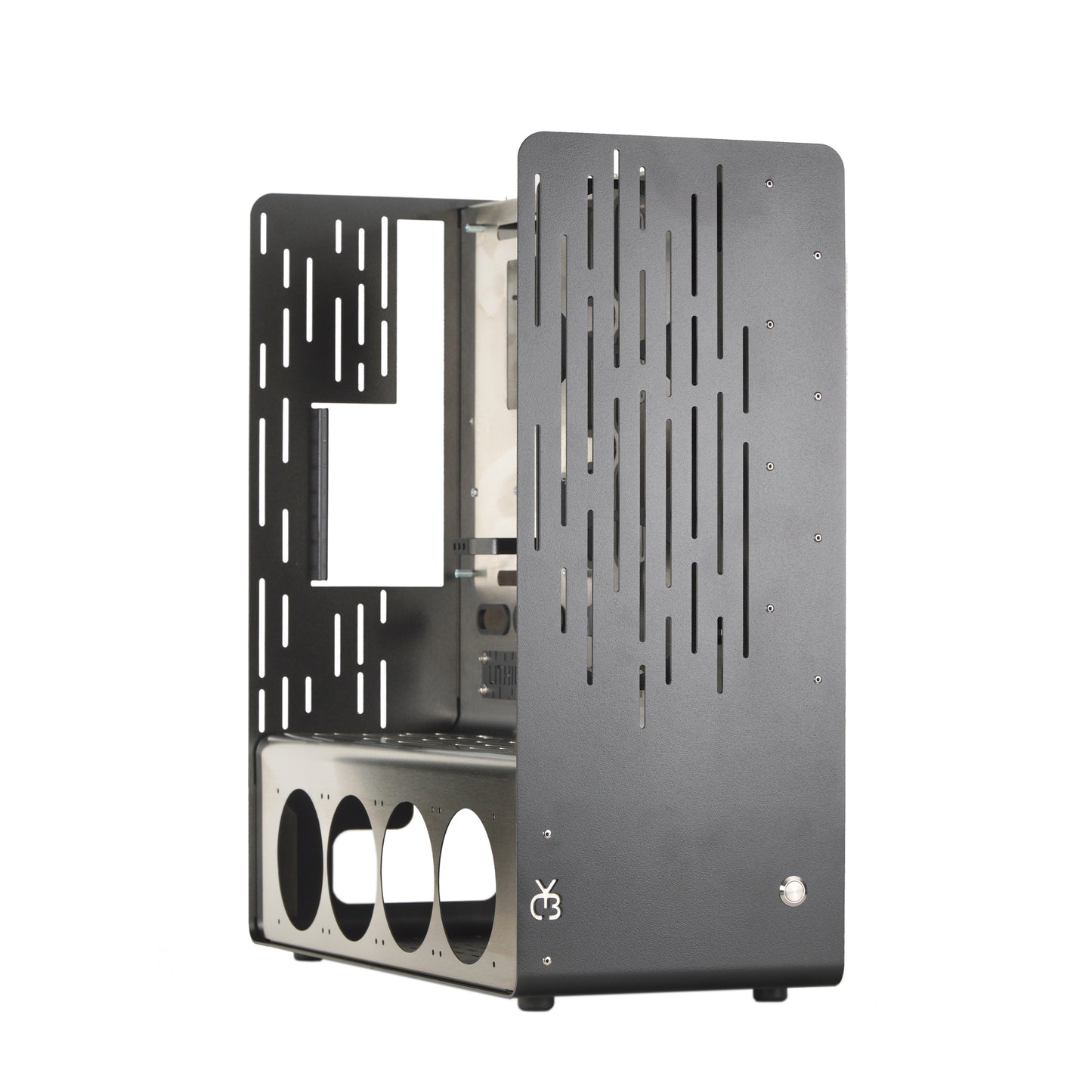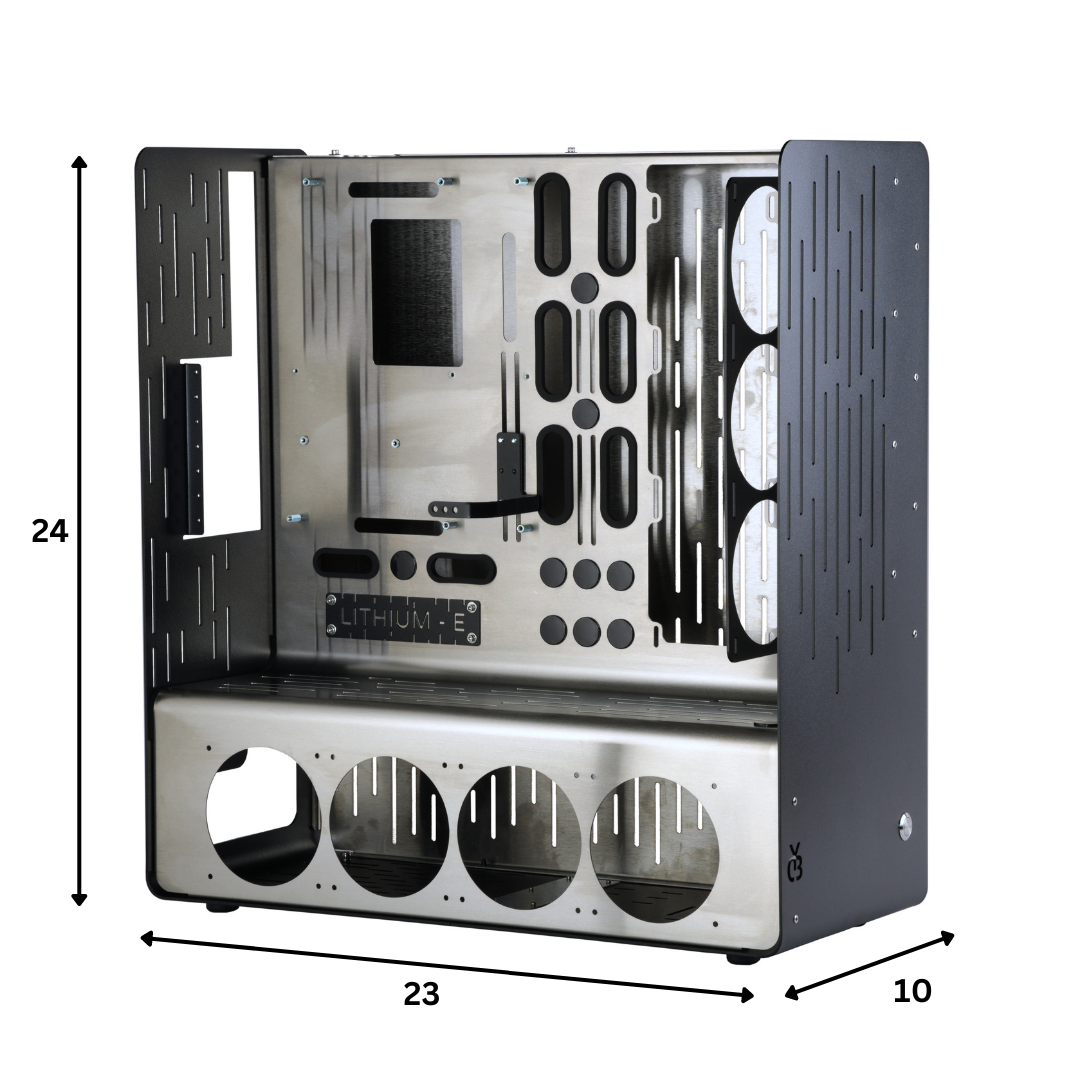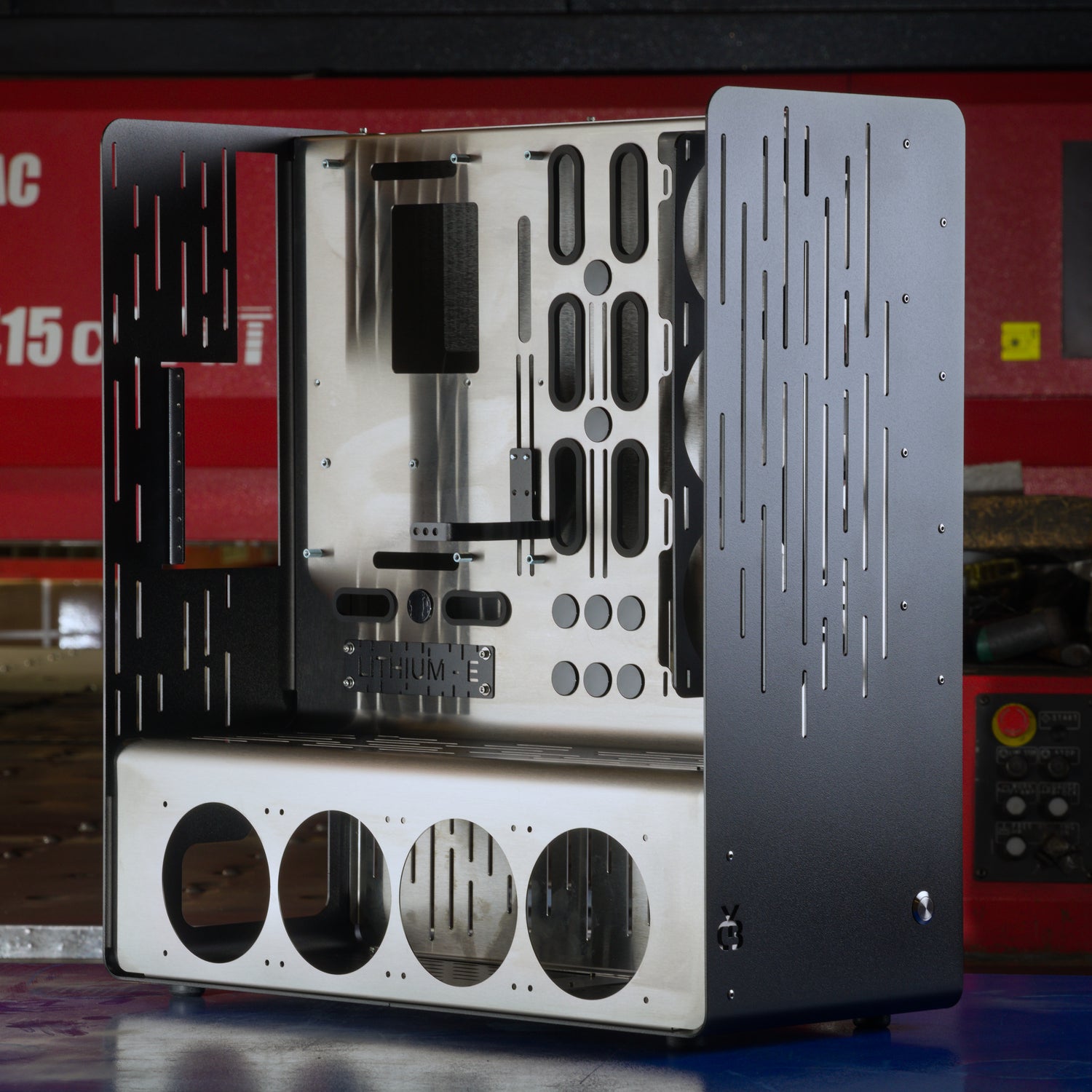 Built for those who want more
Radiator/Fan support:
2 x 360mm
1 x 480mm
Fan/Pump support:
1 x 360mm
1 x 120mm
Tube passthrough cutouts:
13 x 20mm cutouts
Motherboard support:
eATX/ATX with cable-routing
GPU support:All sizesBuilt-in GPU Support BracketVertical GPU Mounting ready
Built in GPU Support Bracket & Vertical GPU Mounting ready (Armature Not Included)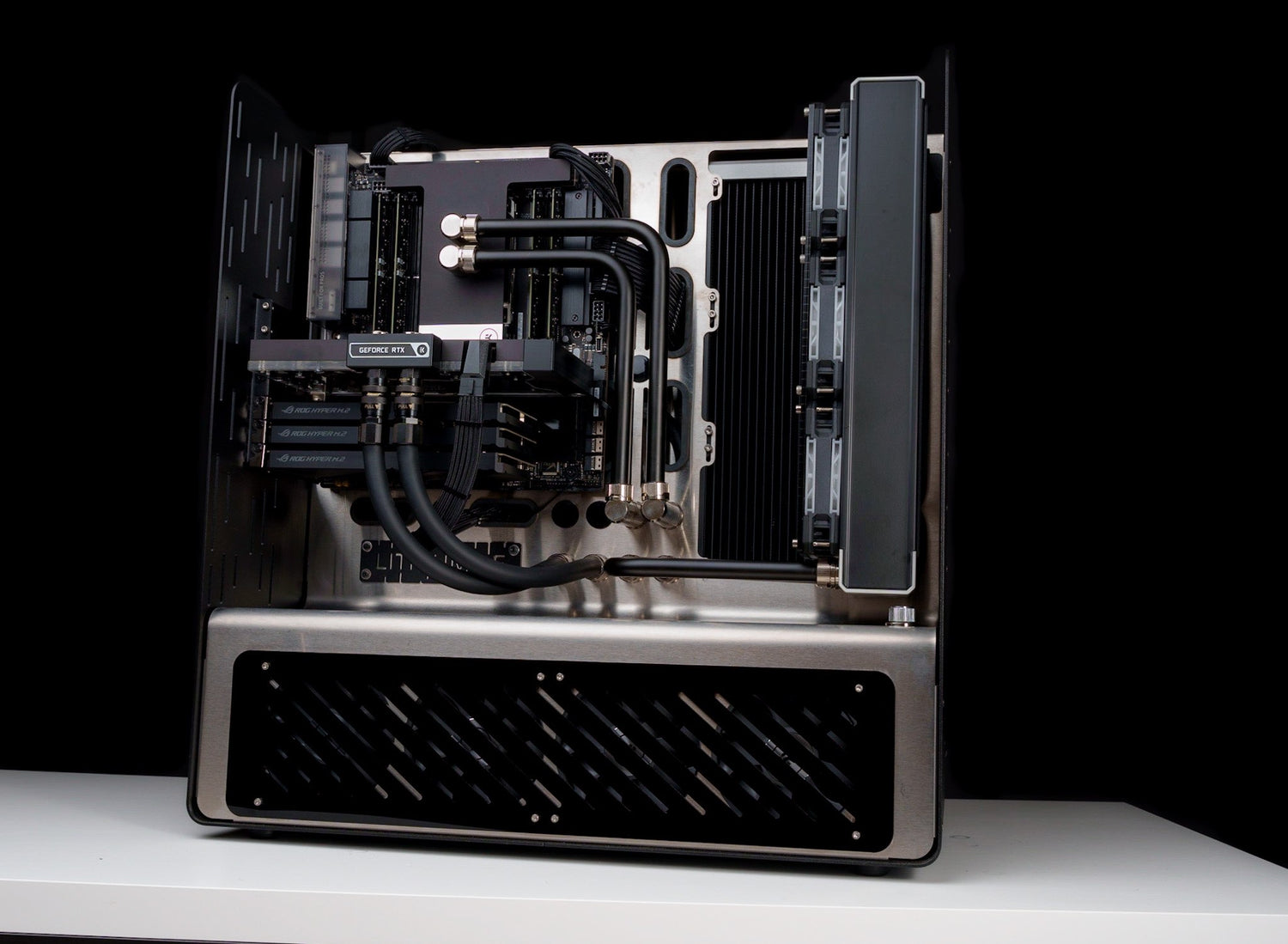 Form Meets Function
The Lithium-E is a robust semi-open eATX/ATX chassis carefully fabricated from Stainless and Mild Steel to create a timeless design. We power your builds with up to 1200mm of radiator capacity, GPU support bracketry, built-in pass through & pump mounting. We have industry leading quality control, where nothing leaves the shop imperfect, and is packed in precision-cut foam. Like a high-end automobile, the Lithium-E invites you to build for your own enjoyment, and for the world to see. High performance, distinctive style, and undeniable character: Lithium-E
Credit Tim of PC_Werkz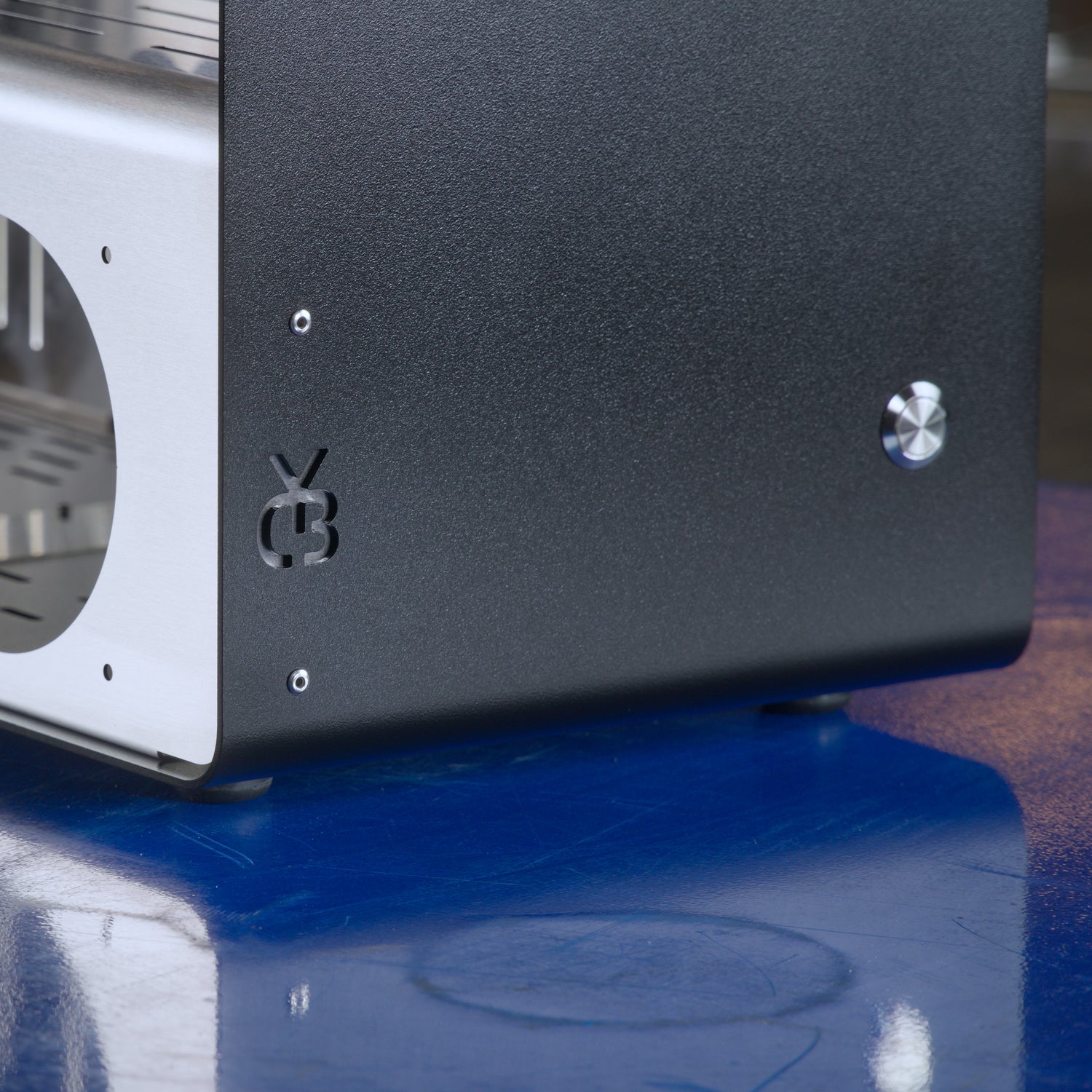 Artisan Crafted
Crafted for those who seek more than just another case, this is functional art. Purposefully designed and fabricated, the Lithium-E seeks to deliver an uncommon experience when compared to the competition.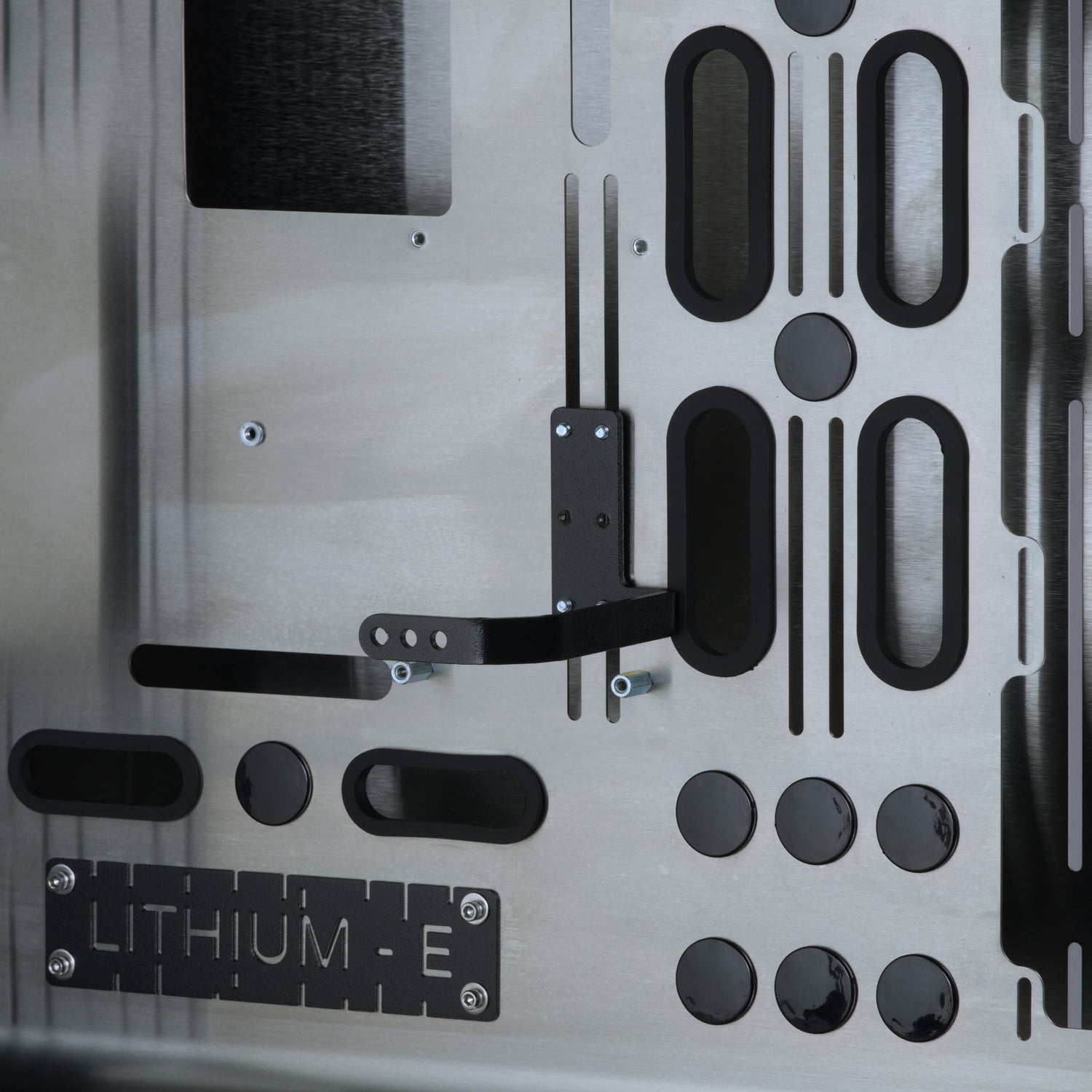 Industry leading Bracketry
Our new GPU support bracket for standard & vertical GPU mounting made GPU Sag a thing of the past. Crafted from 11g black painted steel and secured with 8-32 machine screws, this bracket comes standard with the Lithium-E.
Chassis Specifications

23"(L)x10"(W)x24"(H)
Designed for eATX /
ATX Motherboard, Compatable with mATX & ITX
Fabricated with
Stainless Steel & Painted Black Steel, Stainless Steel Riveted
Construction
GPU Support Bracket
13 x 20mm Holes for
watercooling passthroughs
480mm Basement
Radiator/Fan Mount with 110mm of clearance
360mm Motherboard
Panel Radiator/Fan Mount with 60mm of clearance
360mm Radiator
Bracket, Radiator/Fan Mount with over 60mm of clearance to the front
of the chassis
480mm & 65mm D5
Pattern slot cutout in chassis basement ceiling
120mm & 65mm D5
Pattern slot cutout in chassis side above PCIE mounts

Recessed PSU
Mounting for both vertical & horizontally positioned power
supplies
2 x HDD & SSD
brackets, with additional 20mm holes for optional watercooling
passthroughs on HDD Bracket
Additional 120mm
flex pattern in chassis floor for internal mounting

Batch of 10 units
Armature - Vertical GPU Mount
Regular price
Sale price
$45.00 USD
Unit price
per
Sale
Sold out
Share
View full details